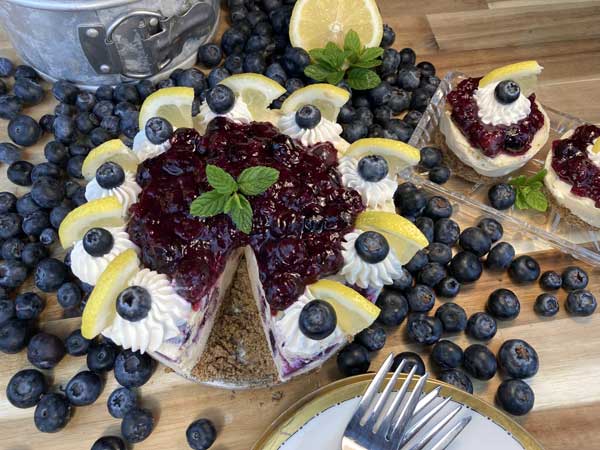 LEMON BLUEBERRY CHEESECAKE
A decadent non-dairy recipe celebrating National Blueberry Cheesecake Day
INGREDIENTS:
Crust:
2 cups almond meal
½  cup coconut sugar
1 teaspoon cinnamon
¼ cup plus 2 tablespoons vegan butter, melted
Cheesecake Layer:
1 ½  cups cashews, (soaked 3-4 hours and drained )
¾ cup maple or agave syrup
Zest and juice of one and a half lemons
1 teaspoon vanilla
1 (16 ounce) block extra firm tofu, cut into chunks
Blueberry Topping
½  cup cane sugar
2 tablespoons corn starch
½  cup water
Zest and juice of ½ lemon
2 cups fresh or frozen blueberries
Piped Sour Cream:
1 pint vegan sour cream
1 teaspoon vanilla
1 tablespoon powdered sugar
Thinly sliced lemon wedges for garnis
Fresh blueberries
Sprigs of fresh mint
DIRECTIONS:
Combine the almond meal, coconut sugar, cinnamon, and vegan butter in a medium mixing bowl, stir to combine then divide the mixture and press it into the bottom of an 8 or 6-inch springform pan or into a silicone cheesecake mold for mini cheesecakes. Firmly press the crust into the bottom of pan or each cavity or the silicone mold and set it aside.
Combine the cashews, agave or maple syrup, lemon zest, lemon juice and vanilla in the jar of a blender. Blend on high until smooth then add the tofu a few chunks at a time, blending until smooth between each addition. Pour the mixture onto the prepared crusts, smooth the tops with a spatula then chill covered in the freezer until firm for about six hours.
While the cheesecake is chilling prepare the blueberry and sour cream toppings.
Combine the sugar and cornstarch for the blueberry topping in a small saucepan, stir it until there are no lumps. Add the water, zest, lemon juice, and blueberries. Simmer until the blueberries begin to soften and the sauce thickens. Set it aside to cool.
In a small mixing bowl combine the vegan sour cream, vanilla, and powdered sugar. Stir well to combine. Transfer it to a pastry bag with a star tip and keep it chilled until ready for serving
Remove the cheesecakes from the freezer and un-mold them.  Spread a spoonful of blueberry topping over the top then pipe or spoon a swirl of sour cream in the center of each or around the outside edges. Garnish the sour cream swirl with thinly sliced lemon wedges, a fresh blueberry and optional sprig of mint. Serve chilled, keep refrigerated or frozen.
Makes one 8-inch cheesecake, one six-inch cheesecake plus 6 individual cheesecakes, or 12-16 individual cheesecakes.
Published Thursday, May 26th 2022