The Church Kitchen
Prior to COVID 19 churches were an ideal place to introduce local communities to plant-based foods.  Seventh Day Adventists have been at it for years with vegan and vegetarian church pot-lucks. Most churches have great kitchens and community rooms. Volunteering in your local church kitchen is an excellent way to help serve your community. Once we get the green light on serving food from church kitchens again there will be an abundant opportunity to share the joy of plant-based foods.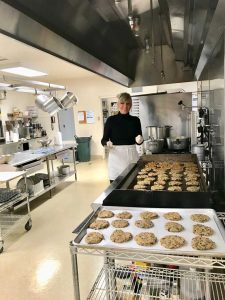 While I may not fully agree and  with church doctrine there's a lot there that I appreciate too.  With  a team of awesome voluteers I  enjoyed  a world class experience leading monthly Vegan Nights dinner from the kitchen at the San Diego First Church of the Nazarene on the campus of Point Loma Nazarene University. Almost like heaven with an amazing kitchen and beautiful campus.  Music was always a great part of the evening. From singing tracks from the Sound of Music during our family Octoberfest meal to 70's classics, music made working in the kitchen fun. Here's a link to a short list of church kitchen inspiring favorite songs on YouTube.
Church Kitchen Playlist: George Harrision, Ozark Mountain Daredevils, Los Lonley Boys, Norman Greenbaum, and Pentatonix…spicing it up!
When the day returns, church kitchens are potential food learning centers waiting to be utilized for the benefit of our communities.
Check out our last recipe collection here: